Arte e cultura
Visit Vinci and you'll discover a town rich in attractions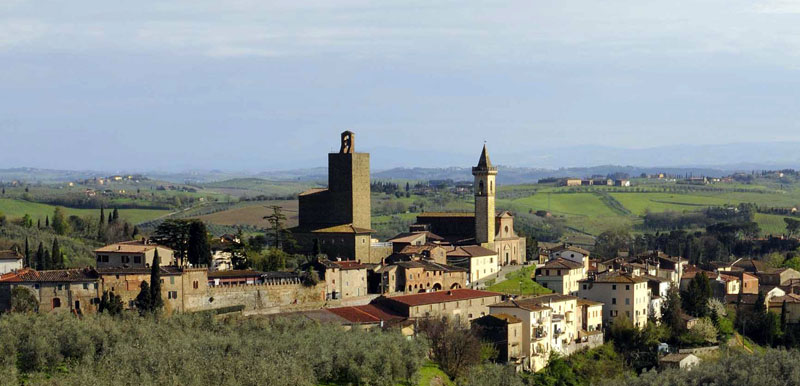 The farm Podere Jana is situated in the green hills of Vinci, in the province of Florence. The town, which is very near the farmhouse where you will stay, really deserves a visit, if only for its peculiar layout: the oldest part of Vinci has an almond-shaped plan and, seen from the air, makes you think of a vessel with two masts, represented by the Rocca dei Conti Guidi and the campanile of the church of Santa Croce.
There are a lot of monuments and interesting places in this town, which is characterized by remarkable examples of religious architecture – for instance the Sanctuary of Santissima Annunziata, or the already-mentioned church of Santa Croce of Romanesque origin, rich in important memories of local history – and civil architecture too, among which the suggestive square piazza dei Guidi, redeveloped in 2006 with a contemporary art intervention designed by Mimmo Paladino. The Castello dei Conti Guidi is in Vinci as well: it's a wonderful medieval fortification dating back to the XI century and hosting the Leonardiano museum nowadays; in the castle you will find frescoed and sculpted emblems, a reminiscence of the podestà, and the ceramic "Madonna with Child" by Giovanni della Robbia dated 1523.
The reference to the museum immediately reminds you of the fact that Vinci is also and above all the place where the great Leonardo was born. In fact, here you will find the Leonardiana Library, an international research center devoted to the genius, and the Museo leonardiano of the Vinci municipality, a large and prestigious collection of models of his inventions hosted in the Palazzina Uzielli and partly, as mentioned above, in the Castello dei Conti Guidi. Just a number is enough to figure out the importance and interest arisen by the great painter, engineer, scientist, designer and inventor who was born in Vinci on 15th April 1452: 130 thousand people visit the museum every year. In the town, where everything speaks of him, there is also the ideal Museum Leonardo da Vinci, devoted to the in-depth analysis of the figure of Leonardo, without overlooking the complexity of his work in the several fields where he emerged. Don't forget to stop by the Giardino di Leonardo e dell'Utopia, a garden along the hilly road leading to Lamporecchio.