Arte e cultura
Prato, there is more than textile industry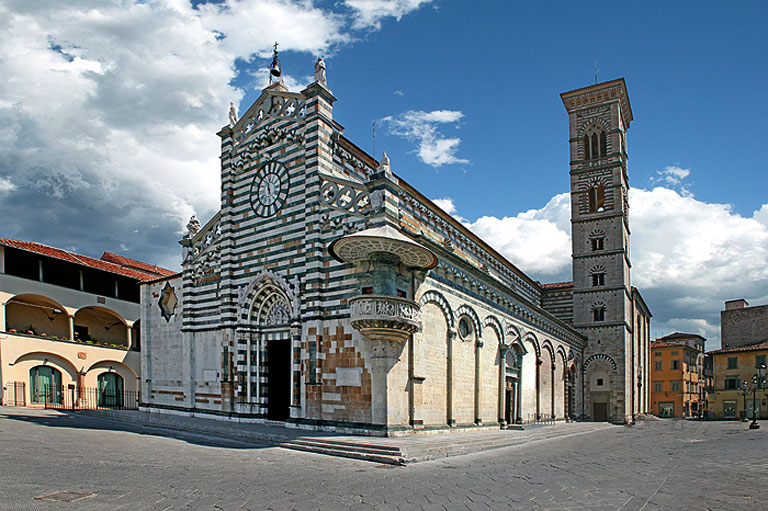 It is wrong to consider Prato as an industrial center and nothing more. As a matter of fact, this town, however firmly rooted in the textile sector, boasts several monuments of great historic and artistic interest. It is certainly undeniable that this production has always played a leading role in the economy of Prato since the Middle Ages; in the nineteenth century, then, the town underwent an extraordinary industrial development, so much that it was called "Manchester of Tuscany". It must be said, however, that Prato has not only remained a capital of the textile industry, but furthermore offers great historic and artistic attractions through a cultural journey that crosses various ages starting from the Middle Ages.
If you plan to visit it, then, don't let yourself be conditioned by those who don't consider it worthy stopping: you will discover that Prato, even if it cannot be compared to Florence or Siena with regard to cultural and artistic wealth, still offers some interesting ideas for curious tourists.
We recommend you should enter the town along via Pistoiese: on your right you will immediately find San Domenico, an impressive Gothic church (late XIII century) with a Giottesque Crucifix inside. From there go towards the Cathedral, with its beautiful polychrome facade (XIV century), on whose corner there is the renowned pulpit by Donatello (1439). Inside you will see first of all the frescos by Filippo Lippi, the pulpit by Rossellino and Mino da Fiesole and a beautiful Madonna by Giovanni Pisano (1317). From the Cathedral you can go through the central via Mazzoni to the Piazza del Comune, a square dominated by the majestic Palazzo Pretorio (inside there is the Pinacoteca, a picture gallery with beautiful paintings by primitives, by both Lippi, pictures of the Bolognese and Neapolitan schools, a group of views by the Flemish Van Wittel). If you go on along via Ricasoli, you will reach the square where the austere facade of San Francesco (XIII century) stands out, with frescos and nice sculptures inside: not far away, next to the imposing Castle of Frederick II of Swabia, there is the elegant Santa Maria delle Carceri by Giuliano da Sangallo (XV century).