Arte e cultura
Discover the treasures of Petrarca's city: Arezzo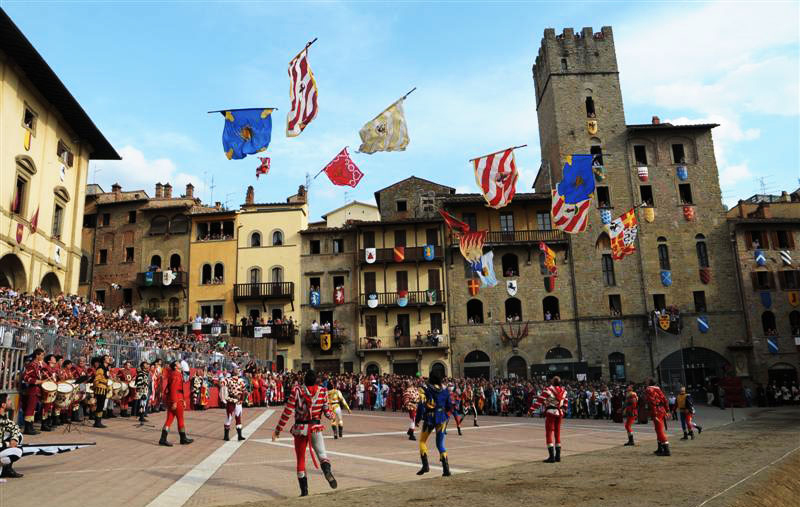 Arezzo was an Etruscan city, but in the IV century b. C. it formed an alliance with Rome, thus avoiding the destruction that struck other sister cities instead. During the troubled Middle Ages and the Renaissance, it underwent an important artistic flowering, and was the birthplace of Francesco Petrarca and Giorgio Vasari, among the others.
At first, pause on the original and irregular Piazza Grande, whose monuments belong to different ages: the picturesque palazzetto Fraternità dei Laici, the Palazzo Cofani with its little embattled tower, the high Palazzo Lappoli tower, the beautiful apse with galleries of the Pieve di Santa Maria (a Church dating back to 1000 and restructured in the 13th century): from the apse you can reach a wonderful Romanesque façade whose porch is overhung by three orders of loggias of different sizes. In the central portal there is a beautiful sculptural frieze of the Months. Inside the Church, there are several works of art, such as the Polyptych by Pietro Lorenzetti (1320) on the high altar.
By walking along Corso Italia, you can reach the dark Palazzo del Pretorio, with stone blazons, from which you can reach Petrarca's House and the Cathedral, a noble massive structure made in Gothic-Romanesque dark stone whose construction began in 1278: internally, the cathedral is slender, full of light, and presents the Windows decorated by Guglielmo de Marcillat (14th century) and the monumental Sepulchre of the bishop Guido Tarlati (1339). Next to the 14th-century Palazzo Comunale, i.e. the town hall, there is the Church of San Domenico (1275), with remarkable frescos by Spinello Aretino. From here, we recommend you to reach Giorgio Vasari's House, placed in via XX Settembre and frescoed by the artist who was also its owner. At the corner between via San Lorentino and via Garibaldi, there are the Museum and the Picture Gallery, collecting majolica objects and paintings, among which there is the famous San Francesco, by Margaritone da Arezzo - which is one of the first signed works of Italian painting, Luca Signorelli's Madonna and Saints, and Rosso Fiorentino's Ascent of Calvary. Through the nearby via Cavour, you can reach the Basilica di San Francesco, with its bare Franciscan forms (1322) and famous worldwide for its cycle which is based on the Legend of the Cross painted by Piero della Francesca between 1452 and 1466.
From Corso Italia and through via Crispi, you can reach the Roman Amphitheatre, nearby the Archaeological Museum, collecting Etruscan and Roman vases and Etruscan bronzes. Last but not least: if you have some strength left, walk down viale Mecenate up to the Church of Santa Maria delle Grazie (1,5 km), where you will be struck by the charming Porch by Benedetto da Maiano.