Arte e cultura
Pistoia and its Piazza del Duomo, one of the most suggestive ones in Italy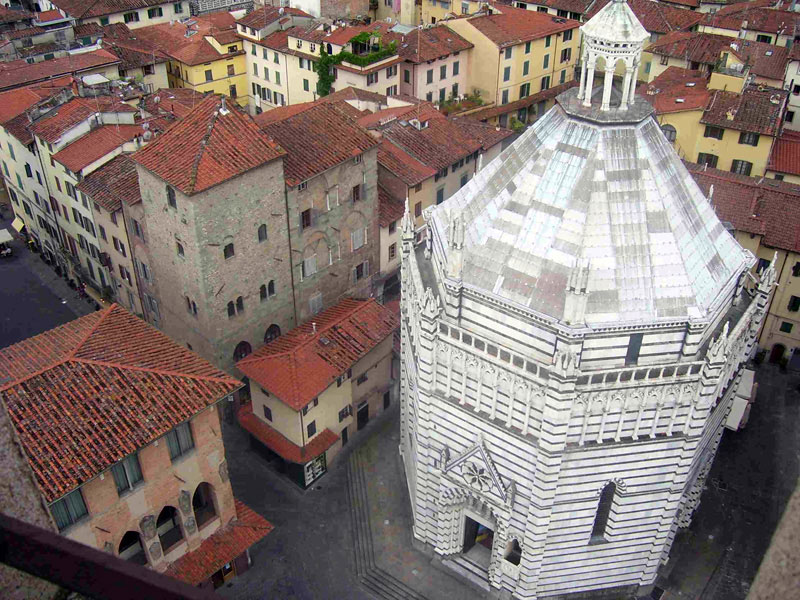 Pistoia is an old Roman and medieval city that is often unjustly neglected, even if it is not less enchanting, for its flair and majestic architecture, than Lucca and Pisa.
Pistoia can boast of a number of magnificent Romanesque and Gothic churches, the first of which, San Paolo, will immediately appear in front of you once you'll have entered the city coming from via di Porta Carratica; on your left, at Piazza Garibaldi, you'll find the Chiesa di San Domenico, a fourteenth-century church embellished with several sculptures and frescos. From here you'll immediately reach San Giovanni Fuorcivitas (XII century), which is covered with astonishing white and green marble and hosts in its wonderful interior the famous Pulpit (1270) by Guglielmo da Pisa. If you go on your left, you'll go beyond the Renaissance Madonna dell'Umiltà, with its elegant Atrium, and get to Sant'Andrea, the gem of Pistoia's architecture, which hosts Giovanni Pisano's masterpiece in its interior: it's the Pulpit (1301), which is still more beautiful than that of Pisa.
A must-see is Piazza del Duomo, which is one of the most stern and elegant squares in Italy and for sure one of the most suggestive ones. Here you will admire the steady Palazzo Pretorio (1367), next to which there is the fourteenth-century Battistero and, opposite to the baptistery, the Campanile, which has been obtained from the transformation of a Longobardic tower; then you'll see the Cathedral (XII century) with its majestic colonnade façade and portico and the interior rich in sculptures and paintings, among which the Madonna by Verrocchio (1485) stands out. Opposite to the Palazzo Pretorio you'll see the beautiful Palazzo Comunale, another Gothic palace with an interesting Museo civico inside (picture gallery, coin and archaeological collections). You'll enjoy going along the downtown streets, decorated with amazing palaces, until you reach, beyond the cathedral, the Ospedale del Ceppo with its beautiful Florentine Renaissance portico (1514) and the lively terracotta frieze by the Della Robbia family. From here you'll go on to the chiesa di San Bartolomeo in Pantano, where you'll admire the beautiful pulpit by Guido da Como (1250) located inside the church, and then to the ex Chiesa di San Pietro, with its magnificent portal.