Arte e cultura
Lucca, don't miss a walk along the walls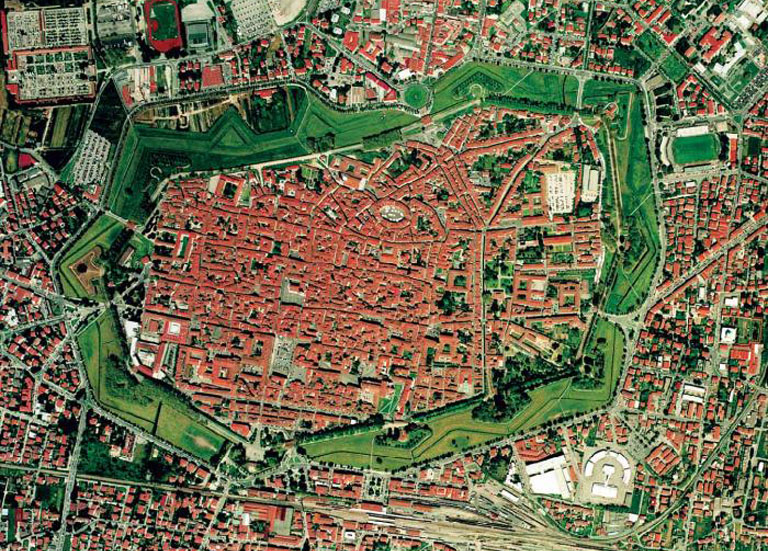 Your stay in Tuscany will be certainly more precious if you go and discover Lucca, one of the most important Italian art cities, that is well known also outside our Country. This is not surprising: in fact, Lucca boasts its intact 15th-17th city walls running along the historical centre for four kilometres; from the second half of the 19th-century, these walls were changed into a pleasant pedestrian walk, and is one of the best kept in Europe as in the past centuries it has never been used for defensive purposes.
Lucca was a Roman city and it was as well important during the medieval period, developing its own Romanesque architecture deriving from the Lombard art and whose refinement was due to the abundance of marbles from the nearby city of Carrara. The point of contact between Romanesque architecture and marble created rich ornaments, sculptures, loggias, galleries, capitals featuring the typical art of Lucca and Pisa. The ancient city is enclosed with the massive ancient city walls, from which you can enjoy wonderful views over the city, its bell towers and towers.
Reach the square of the 13th-century Cathedral, rich in loggias and sculptures, among which stands out the group of San Martino on the façade – you will notice its resemblance with the Bamberg Rider. The interior is full of works of art of all times and there is also the wonderful Tomb of Santa Ilaria dei Carretto by Jacopo della Quercia, an altar by Giambologna, and a Last Dinner by Tintoretto; in the sacristy, you find a beautiful altar-piece by Ghirlandaio. Behind the Cathedral, there is the Archbishop's Palace (with a wonderful 15th-century portal) from which you can reach the Oratory of Santa Maria della Rosa, a little Romanesque-Gothic gem. Going back to Piazza San Martino, with its wonderful palaces, and walking through the adjoining Piazza Antelminelli, you can go to the Church of San Giovanni, with its beautiful portal dating back to 1187 and the 14th-century Baptistery. From here, go to Piazza Napoleone, which is overlooked by the Palazzo Provinciale (1578), where you can also find a wonderful Picture Gallery (works by Berlinghieri, Andrea del Sarto, Bronzino, Pontorno, Fra Bartolomeo, Veronese and P. Batoni). Through via Vittorio Veneto, you can reach the magnificent Piazza San Michele, where the gem of Lucca architecture stands out among the medieval houses: it is the Church of San Michele (1143), with its slender loggias façade ending with a high spire. Inside, you find some paintings by Filippino Lippi and a bas-relief by Della Robbia.
Now reach via Fillungo, the most beautiful street in Lucca, and walk along it until you reach the Roman Amphitheatre, which is surrounded by picturesque medieval houses. Follow the short path on your left on order to reach San Frediano, an austere Romanesque church (1112) with a sober mosaic façade, a wonderful baptismal Font, sculptures by Della Quercia, Civitali, etc. From here you can reach then the church of San Francesco (13th century), with its beautiful portal flanked by medieval sarcophaguses, and reach Villa Giunigi (1418) and its open gallery; from via della Fratta and via Mordini you finally reach via de' Giunigi, where there is the most characteristic medieval complex of the city, which is overlooked by the picturesque Torre Giunigi and the group of trees on its top.