Podere Jana
The perfect holiday in an antique Tuscan farmhouse.
A wonderful and relaxing stay in the most authentic Tuscany, to be discovered slowly, by exploiting the comfort of a prestigious accommodation surrounded by the green of the hills of Vinci, in the province of Florence, which is also the birthplace of the great artist Leonardo.

Podere Jana: Holiday aparments in an antique Tuscan farmhouse.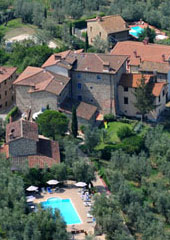 In the rentable holiday apartments of Podere Jana, which is placed in the town of Marcello, on the road to Faltognano, you will have all the comfort you desire and at the same time you can breathe the elegant atmospheres of the past thanks to the characteristics of this structure: it is an antique 16th-century Tuscan farmhouse divided into eight wide and cosy rentable apartments – which can be easily matched if you belong to a numerous group.
All the seventeen bedrooms are elegantly furnished and capable of hosting up to 35-40 people: this is a further opportunity of enjoying a wonderful holiday in Tuscany being part of a group.
Be ready to restore your spirit and feast your eyes on the wonderful landscape you will enjoy from our Tuscan farm, which is surrounded by the nature of one of the most beautiful Italian regions: by one view you will be able to see the Valdinevole up to Montecatini and the not less beautiful Valdelsa up to the Fortress of San Miniato and beyond it.
There are thus plenty of reasons why you should treat yourself to a relaxing rentable holiday in Tuscany, choosing the farm Podere Jana: this is the perfect accommodation for those in search of an uncontaminated and people-oriented environment, where you can play open air sports without choosing between one activity and another. In fact, the village of Vinci is placed nearby the most important Tuscan cities - cradles of art and architecture, besides the city with the main spas of the region.
Rent a magnificent accommodation from which you can discover Tuscany.

Look at your road map and check some distances: you will be confirmed that it takes you a very short time to reach the most beautiful places leaving from your wonderful rentable accommodation in Tuscany.
Let's start with Florence: it is the chief town and pride of the whole Tuscany, one of the most famous Italian cities worldwide and considered as a World Heritage Site by UNESCO. To reach it, you only have to travel about 30 kilometres through the scenic hill roads.
You can choose the Strada del Vino (Wine Road) of Carmignano or the road down to the valley towards Montelupo, Sanminiatello and Signa; alternatively, you can drive along the clearway Florence-Pisa-Livorno.
Don't you like to go by car? No problem: in thirty minutes you can reach the centre of Florence – as well as Pisa, if you want to see the famous Leaning Tower – thanks to an efficient railway, with very frequent trains leaving from Empoli, a Renaissance small town at only 7 kilometres from Vinci.
Just bear in mind that you also have at your disposal an historical railway connecting Empoli to the medieval town of Siena in one hour, passing through the most characteristic centres of Valdelsa; if you like, you can also take with you a previously rented bike.
Around here, there are many other cities of art which can be reached easily and in a short time: in fact, Empoli is at only 25 kilometres Pistoia and Prato, 45 kilometres from the little medieval gem of San Gimignano, and 50 kilometres from Lucca, which is enclosed with wonderful and perfectly preserved Renaissance town walls.
Otherwise, do you want to dedicate one or more days to your well-being? You are only 17 kilometres from the spas of Montecatini and Monsummano.
Seventeen elegant rooms in a charming villa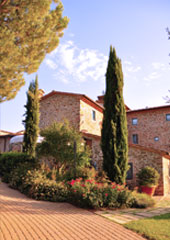 Podere Jana is the perfect starting point for several tours discovering the classic and wonderful Tuscany, and it is also the perfect location for those wishing to unwind and enjoy the beauty of this place surrounded by olive trees.
The relaxing apartments here in Tuscany are perfect to this purpose.
Specifically, our Tuscan antique rentable farmhouse consists of a manor house with an antique oil mill and divided into four roomy and finely restored holiday apartments, and of the adjoining farmers' house, which is equipped with four other well-kept apartments presenting the same comforts and a likewise charming landscape overlooking the luxuriant valley.
Podere Jana has seventeen bedrooms in all, which constitute the ideal accommodation for numerous groups too.
At Podere Jana you have at hand many opportunities to relax

In the prestigious Tuscan farmhouse rentable for a wonderful holiday you will have at your disposal also an indoor parking, a beautiful 6 x 12 swimming pool, and you will be able to have fun by playing table-tennis or training with mountain bikes; in the evening, at your relaxing apartment at Podere Jana you have a barbecue and tables at your disposal to dine outdoor.
Are you lovers of good food? Your luxury holiday in Tuscany will enable you to satisfy this pleasure too: during your stay in this wonderful rentable farmhouse you will be able to sample the typical farm products, from the PGI extra virgin olive oil to the wine, from the bread baked in the wood-fired oven to the pecorino cheese of San Miniato, then honey and seasonal fruit and vegetables.
Everything will make your rentable holiday in Tuscany unique, and you will be able to carry out several activities nearby the prestigious farmhouse, such as golf and mini-golf, horse-riding, tennis, trekking and trap-shooting.
The rentable apartments guests can swim and refresh themselves in a wide 6 x 12 swimming pool included in the Tuscan farm Podere Jana: it is surrounded by century-old olives and overlooks the town of Vinci and the whole Montalbano, and it works from the end of May up to September.
You just have to stay in one of the rentable apartments of the Tuscan farmhouse to have freely at your disposal one of the beach umbrellas around the pool.
To refresh yourself, you also have another option: nearby the pool, there is a delightful and comfortable whirlpool tub, aimed at restoring and taking care of your body.
The external well-kept and spacious garden will allow you to enjoy the shades and the Tuscan country coolness, and there you can find an antique restored oven with a big grill: this is perfect to enjoy cooking, especially in the evening, while benefiting from open air life.
A relaxing holiday immersed in the heart of Tuscany,
Among walks, pool bathing and tours in wonderful cities.